Parent and Teacher Partnership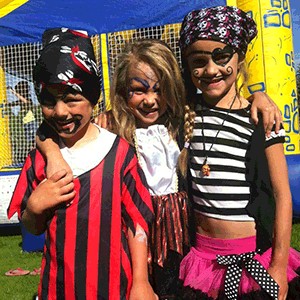 As part of our promise to provide the kind of care and education you want for your child, we feel you should be involved every step of the way. That's why we encourage you to visit anytime and join us for field trips or special family events at the preschool.  Other family members or close friends may visit the school. We ask that these individuals ring the bell upon arrival and sign in.  Notification of visitors ahead of time by parents is always appreciated!
In addition to your initial visit and meetings at your request, we schedule parent teacher conferences every year so that we can discuss your child's progress with you.
We publish a monthly newsletter with school news and events that are happening within the center.  In addition, we send daily emails outlining our fun activities and learning for the day.  Please refer to these emails for lesson plans, daily schedules, and other important classroom and school information.  Infants and Waddlers receive individualized daily reports that explain how your child ate and slept during the day and what activities they did.  Being an active, involved parent in your child's school is a commitment that pays off time and again!
Clothing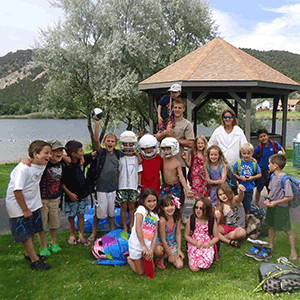 Because a full day at Blue Lake can include activities such as running, climbing, painting, dancing, eating, and playing, both indoors and outside, your child should wear comfortable, washable clothes, as well as rubber-soled and closed-toe shoes while at school. Even during the winter we try to get outside as much as possible.  On snowy days we ask that you provide appropriate snow clothes for your child.  We also ask that you bring a change of clothes, just in case.  To avoid losing a favorite sweater or jacket, we ask that you label all clothing that might be taken off or changed during the day.
Parent Volunteer Hours
In order to provide a quality program we need the help of the entire school community. We require each family contribute a minimum of 16 hours volunteer time per school year.  Eight hours must be completed by the end of February and the additional eight by the end of August.  These hours are logged by you in a box at the sign-in desk.  With this assistance, we have rebuilt playgrounds, painted, built a kitchen and run successful fundraisers, and made numerous improvements to the preschool that would have otherwise been impossible.  We keep an ongoing list of volunteer opportunities or we invite you to be creative and suggest some of your own ideas.  Perhaps you can arrange a field trip to your office (doctors, dentists, construction sites, fire station, etc.) or come and teach a class about a hobby of yours.  Please contact the director with your ideas and/or if you aren't sure what opportunities exist. If you are unable to fulfill your volunteer hours, you will be charged a fee of $30/hr for each hour that is not completed.  Any unfinished hours will be billed on your March and August invoices.
Your Donations are Tax-Exempt!
Blue Lake and Little Blue Preschools are tax-exempt 501(c)3 educational organizations. This means contributions made by you, your extended family, and your work place qualifies for a standard non-profit tax deduction.  In addition, the State of Colorado provides additional deductions for donations to non-profit preschools, so your dollar-for-deduction donation ratio is significantly higher than many non-profits!   Please consider donating to our school and/or asking your employer to match any donations you make.  Your child will benefit directly.